Good day, Band families!
Uniform Pillow Sale: First of all, I invite everyone to please click on the attached flyer. . . The old uniforms are getting repurposed into keepsake pillows!!!! Use the link from the flyer to order one today! There is a limited number of uniforms available to convert to pillows, so once our limit is reached, there will never be an opportunity to get one again. The pillows are set to be delivered before Christmas. What a great gift for a band student!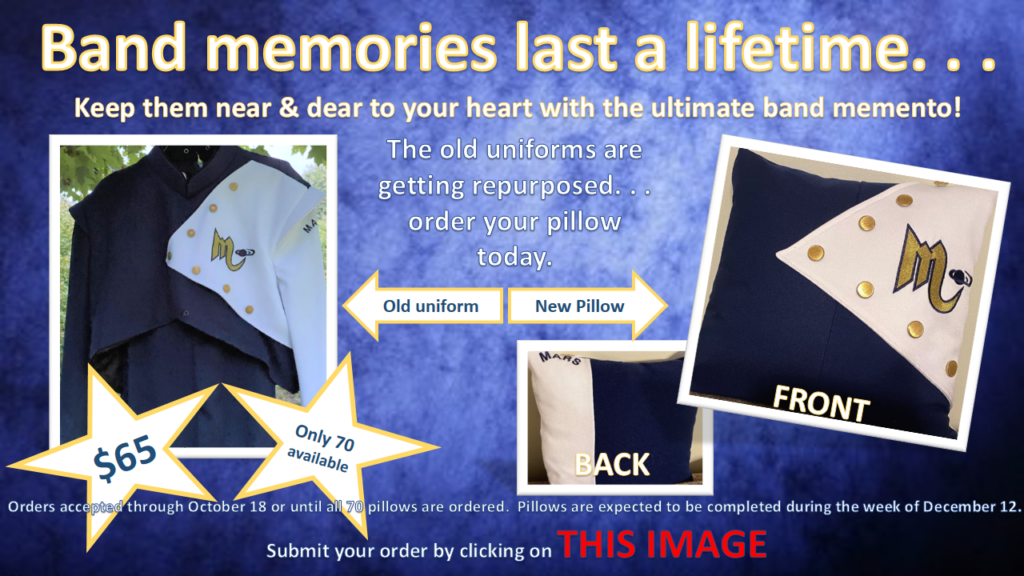 Popcorn: Mark your calendars if you ordered popcorn – Pick up will be October 12 during practice/parent meeting.
Pies: Very soon I will send out information for you to start collecting orders for pies. They are prepared, frozen, and ready for you to bake. They will be delivered just in time for Thanksgiving. Order forms and submission information will be forthcoming. 50% of pie profits will be applied to your student account.
As always, if you have any questions, please let me know.
Thanks,
Dana Fenio
fundraising@marsband.com